China's Silk Road for health and wellness now even more of a two-way street with Australia
By NADINE MCGRATH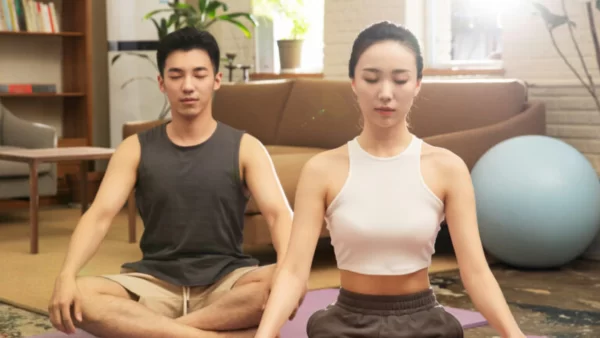 STOCKHEAD
9:16AM OCTOBER 25, 2023
China has a deep-rooted history in traditional wellness practices and products.
And the West has adopted a significant portion of its wellness culture from the East and particularly China, from its unique medicines to tai chi.
However, things are now going the other way, with China adopting many health and wellness products from the West, with a particular love affair for Australian offerings.
A growing middle class and younger generation concerned about health and wellness is driving the sector in China.
The Global Wellness Institute says the Middle Kingdom's health and wellness sector is the second largest in the world, behind the US, and is worth $US683 billion.
EZZ Life Science (ASX:EZZ) chairman Glenn Cross told Stockhead that following the Covid-19 pandemic, the company has seen consumers across China take a much greater interest in their and their families' health and wellbeing.
Cross said this had driven strong demand for high-quality health products with top-tier provenance.
"Australian health and wellness products are, in general, highly regarded by Chinese consumers," he said.
"This is primarily attributed to Australia's pristine natural environments and its rigorous quality standards, overseen by the esteemed Therapeutic Goods Administration (TGA).
"Chinese consumers value the transparency and reliability of Australian brands."
Lodge Partners equity adviser Richard Lodge says he has seen "cosmeceutical companies" such as EZZ and Anagenics (ASX:AN1) benefit from employing direct-to-consumer distribution channels and marketing in China.
"Noticeably, e-commerce and social media platform Douyin (Tiktok in China) have been crucial in growing and maintaining sales in China," Lodge said.
"Anecdotally it also appears that despite geopolitical tensions, the Chinese consumer still sees Australian products as quality and the combination of the correct product and channel has resulted in resilient, if not strong, sales growth."
Here are some of the ASX health and wellness companies growing markets in China:
EZZ LIFE SCIENCE (ASX:EZZ)
EZZ's, with its core focus genomic health and developing a product pipeline of healthcare solutions based on genomics research, has firmly established a substantial presence in the Chinese market.
Cross said China was a country where innovation and consumer-centric solutions were key to success. He said that while Aussie products were highly regarded, simply being Australian was insufficient in this complex market.
"EZZ invests substantial time and resources in crafting high-quality, effective products and educating consumers, primarily through our presence on e-commerce platforms in China," he said.
Cross said Chinese consumers were savvy and spent large amounts of time researching products, particularly through short-video and live-streamed media.
He said EZZ recognised the immense potential in addressing the health and wellness needs of consumers in both China and beyond with a strategic focus on maximising this opportunity.
"First and foremost, we are committed to research and development, continually innovating our product lines to align with the unique preferences of the Chinese market," Cross said.
"Secondly, we are forging strong partnerships with various online and offline distribution channels across China to ensure easy accessibility to our products.
"Thirdly, we are dedicated to education, ensuring Chinese consumers have access to reliable information about our products."
He said that in the ever-evolving Chinese market, adaptability was also pivotal to being able to leverage emerging trends and evolve preferences effectively.
ANAGENICS (ASX:AN1)
Managing director and CEO Scott Greasley told Stockhead AN1 was an Australian provider of premium beauty, health and wellness brands, developing and distributing clinically-validated cosmetic and wellness products.
AN1's proprietary brand, évolis, supports hair regrowth, with China a particularly important market.
"China's haircare market is the second largest in the world at $US9 billion in annual sales, growing at roughly 5 per cent per year," Greasley said.
He said more than 250 million Chinese suffered from hair loss with an Alibaba report finding that 36 per cent of those people had been born in 1990 or later.
In terms of distribution, digital channels accounted for over 60 per cent of haircare sales in China, demonstrating the importance of brands catering to a growing digitally savvy health and wellness-focused consumers.
"Young consumers are driving the wellness trend and prefer to spend online on personal care products, including hair care," he said.
Greasley said Chinese consumers were fast following the trends in Europe and Australia of prioritising health and wellness.
"The market is vast and will continue to develop as the consumer wealth curve increases," he said.
"We've established a beachhead in the market with our évolis brand and will look to expand in the years ahead with our broadened portfolio of health and wellness brands."
ROOLIFE GROUP (ASX:RLG)
RooLife identifies trends in Chinese consumer demand, secures distribution rights for international products that fit consumers' needs and provides the technology and sales infrastructure necessary for brands to sell at scale in China.
CEO Bryan Carr told Stockhead the company was servicing strong demand for international products in China and in particular for Australian health and wellness products
"Following the reopening of China and the removal of Covid-19 restrictions in the second half of FY2023, we are seeing an enhanced awareness and demand for health and wellness products," he said.
"In response RLG has increased focus on the provision of health and wellness and healthy food and beverage products into the China market to service this identified consumer demand for healthy, high-quality international products from China's large, emerging and increasingly health-aware middle class."
RLG now exclusively distributes Remedy Drinks, New Zealand Honey Co, Fiji Kava, Hydralyte and RLG's own VORA protein range in the China market.
The Calmer Co International (ASX:CCO) in partnership with RLG this week announced it had launched its flagship store for Chinese consumers on Alibaba's Tmall global platform to sell Fiji Kava products.
Carr said Australia had been historically and continued to be held in high regard by Chinese consumers.
"Australia and Australian products are seen as high-quality, safe, reliable and as some of the best in the world across multiple categories," he says.
"Endorsement and recognition of premium Australian brands by Chinese tourists and students studying in Australia over the years has built on and enhanced that reputation and we continue to benefit from that legacy.
"This is backed up by the official numbers that show that China is Australia's No.1 export market and our biggest export market for agricultural and food products."
RLG subsidiary RLG Marketplace recently inked a deal to source and supply a range of goods including food, health and wellness, nutritional and beauty care products to be sold in China online and in the physical store network of Shanghai No.1 Pharmaceuticals.
"This is a perfect channel to promote and market Australian health and wellness products and has already delivered almost $3 million in product orders within the first month of the partnership," Carr said.
"We are experiencing a real surge in enquiries and interest from Australian companies seeking to access the Chinese market and sell their products there."
RLG will be representing its portfolio of products at the China International Import Expo in early November.
The expo will be attended by Australian Prime Minister Anthony Albanese and China's President Xi Jinping.
"This will provide great exposure and profile for the Australian health and wellness products we sell in China," Carr says.
VITA LIFE SCIENCES (ASX:VLS)
VLS primarily focuses on developing and distributing a range of over-the-counter (OTC) medications, complementary and alternative medicines, dietary supplements, and health foods across Australia, South East Asia, and China, under various brand names.
Some of the prominent brands under VLS include Herbs of Gold, VitaHealth, and VitaScience. VLS has a rich history, with VitaHealth having been established as a retail pharmacy in Singapore in 1947.
It introduced its first supplement line in 1973.
VLS now has an extensive portfolio of more than 400 registered products.
In its recent financial report for the H1 FY23, the company revealed direct export sales into China had increased by 36 per cent, including strong representation across all major e-commerce channels in China.
The company says export sales to China are forecast to continue leading into major e-commerce events in H2.
This content first appeared on stockhead.com.au
---
At Stockhead, we tell it like it is. While EZZ Life Science and Roolife Group are Stockhead advertisers, they did not sponsor this article.